"1LDK PARIS x ANCOR POP-UP"
"OPENING ON THURSDAY JUNE 22TH"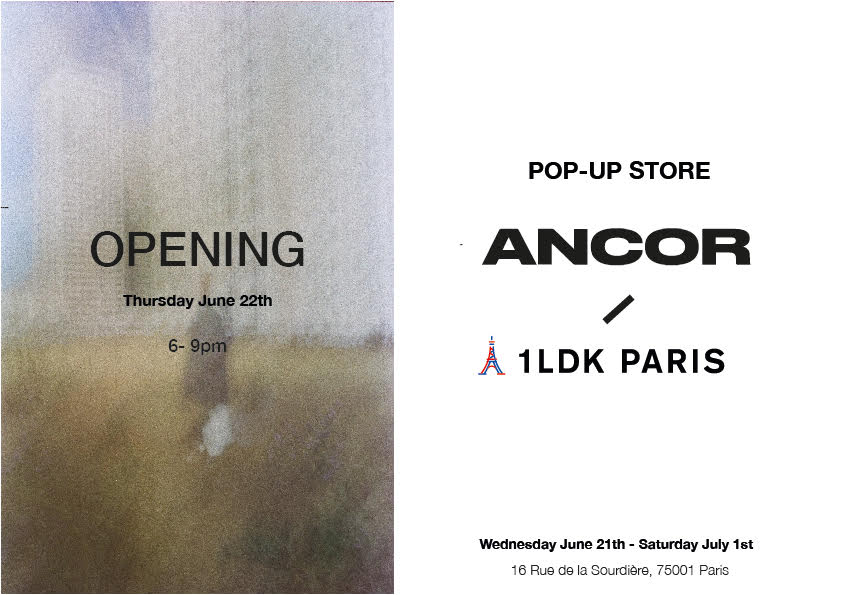 1LDK Paris will host a pop-up event with Parisian menswear brand Ancor running from Wednesday 21st June to Saturday 1st July. The brand will be showcasing its SS18 collection at the store until Thursday 22nd June, where visitors will be able to purchase the SS17/AW17 collection until 1st July.
The opening launch will be held at Paris store on Thursday 22nd June from 18:00 – 21:00. The event has teamed up with Parisian brewery Gallia, who will be providing refreshments.
We look forward to seeing you at 16 Rue de la Sourdière on Thursday!
Instagram: @1ldk_paris @ancor_paris
6 月21日 (水)から7 月 1日 (土)まで 1LDK PARIS 店でフランスのメンズウェアブランドANCORとの POP-UPイベントを開催いたします。
17AW、 18SSの先行お披露目会も兼ねております。
22日 (木) 18:00  – 21:00にはオープニングイベントを行います。当日はパリのクラフトビールブランド Galliaをご用意してみなさまのご来店をお待ちしております 。
OPENING: 22 JUNE 18:00 – 21:00
16 Rue de la Sourdière  75001 Paris