THEME: URU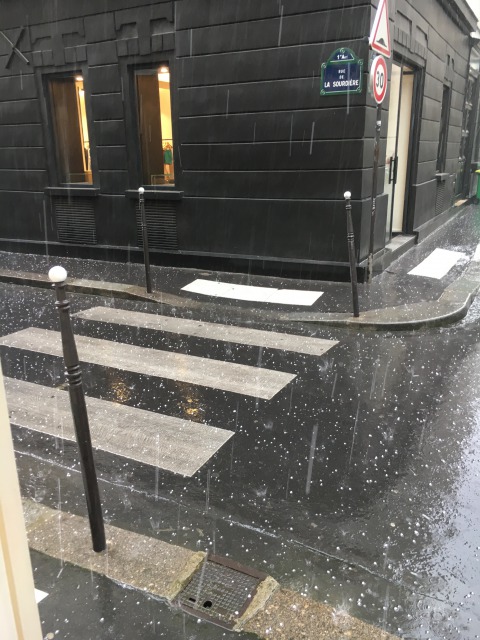 Hi, I'm Yoshi from 1LDK PARIS.
Today in Paris, the hail suddenly flew down, I was surprised by the hail which is not familiar to Japan.
Such Paris has many uncertain weather conditions and it rains a lot.
It is a perfect coat for the time when uncertain weather continues
本日、急に日本ではあまり馴染みのない、小石サイズの雹(ひょう)が強く降り始め、驚きました。
パリでは、天候の崩れやすい日が多く、困る日が多々、、。
そんな不安定な天気の日が多いパリにぴったりなアイテムがございます。
本日は、そちらをご紹介致します。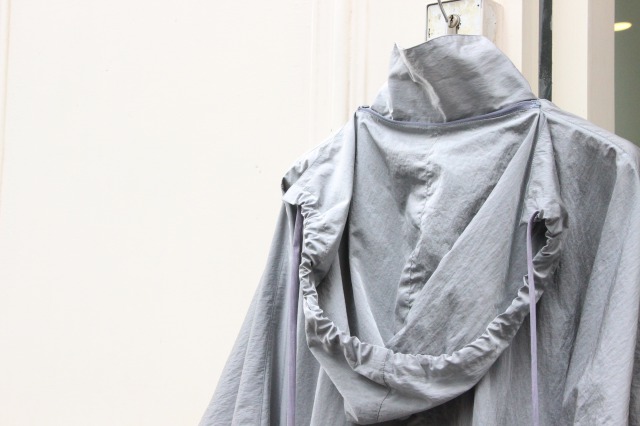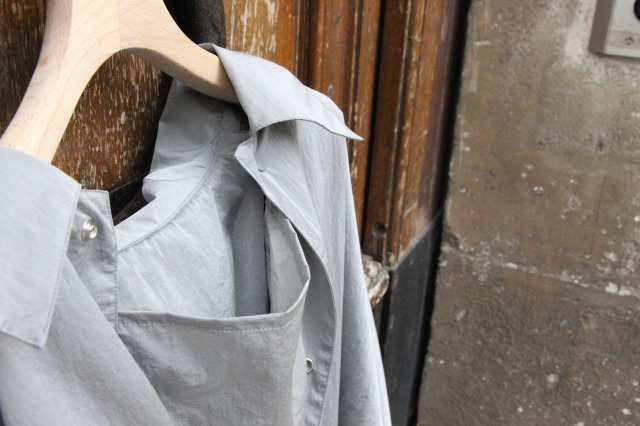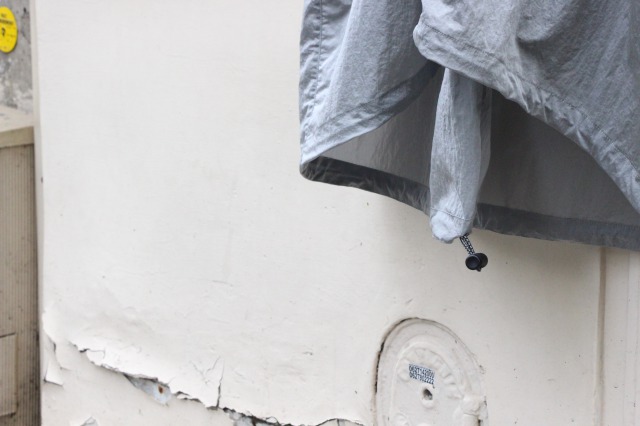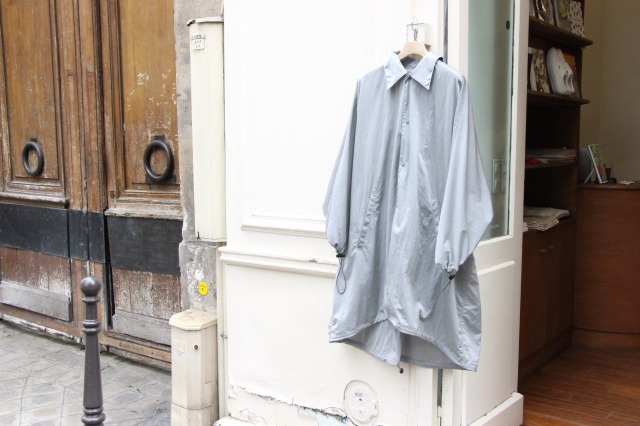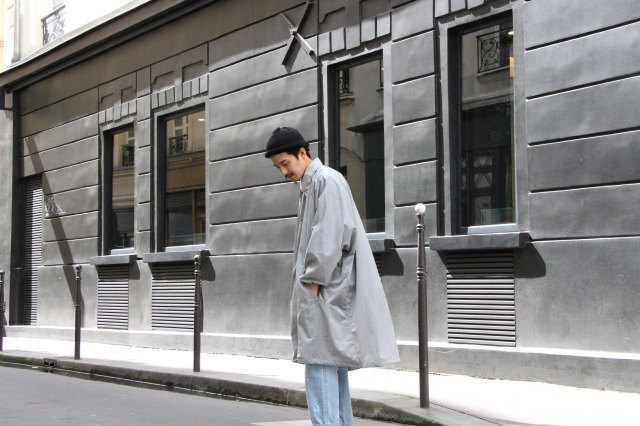 URU "OVERSIZED COACH JACKET"  350€
This item is lightweight and tight, an oversize coach jacket using nice and elegant shiny material.
The name is attached to the coach jacket, but it is rather an item that you can wear as a coat.
Because the hood is removable and has a pocket that can store hood etc inside the neck collar, it is very grateful to be able to change it at that time.
It is also nice to be able to detach easily with zipper.
Because there is plenty of width, you can wear it as a raincoat on the court in autumn and winter.
It is a large A-line silhouette like clothing, tailored from a body to a sleeve with a piece of cloth, a unique pattern matching various body types is attractive.
Hood and sleeves, with a drawcord on the hem, you can change the silhouette by squeezing, without getting tired, you can enjoy it for a long time.
Please try by all means.
軽量で張りがあり、上品な光沢のあるナイロンの素材を使用したオーバーサイズのコーチジャケット。
名前は、コーチジャケットとつけられていますが、どちらかというとコート感覚で使っていただけるアイテム。
フードは取り外し可能で、首元の襟ぐり内側にフードなどを収納出来るポケットがあるので、その時の合わせで、変えられるのは非常にありがたいです。
また、雨や風もしのげるレインコートとして使う時はフードを中に収納して、雨が降れば取り付けるなんてことも出来ます。
ジップで容易に付け外し出来るのも嬉しいディテールです。
身幅もたっぷりあるので、秋冬にコートの上にレインコートとして着ても◎。
ざっくりと着られるのですが、ただ大きすぎるのではなく、そこはさすがデザイナーがパタンナー出身のブランド。
布を纏う様な大ぶりなAラインのシルエットで、ボディから袖にかけて一枚の生地で仕立てられており、いろいろな体型の方にもマッチする独特なパターンが魅力です。
フードや袖、裾部分にはドローコードが付いており、絞ることでシルエットを変えられ、飽きずに長く楽しんで頂ける仕様に。
さらっと羽織るだけでも抜群の存在感を発揮してくれる逸品。
是非お試しください。
instagram
1LDK/1LDK terrace/1LDK PARIS/UNIVERSAL PRODUCTS/MY_/I official
18 SPRING & SUMMER LOOK
UNIVERSAL PRODUCTS/LIVING CONCEPT/I /MY
Thank you for your visit, until the next time.
1LDK PARIS
16 Rue de la Sourdière, 75001 Paris,
+33 1 42 36 44 82
皆様のご来店を心よりお待ちしております。
1LDK PARIS
NAGATA
UNIVERSAL PRODUCTS 18 SPRING & SUMMER LOOK
LIVING CONCEPT 18 SPRING & SUMMER LOOK
Hi, I'm Yoshi from 1LDK PARIS.
Last week, it was chilly in the daytime, wearing an outerwear and going to work.
However, it got warmer rapidly since entering this week, and more people are walking with T-shirts outside.
But it is still a bit cold at night.
Items that come in handy have arrived now, so I will introduce that item.
先週は、昼間も肌寒く、アウターを着て、出勤する程、、。
しかし、今週に入ってから急激に暖かくなり、外にはTシャツ一枚で歩いている方が多くなってきました。
だけど、夜になると、まだ少し寒い、、。
なにを着て行こうか、悩みがちな季節、今日はそんな今の時期にぴったりなアイテムが入荷致しましたので、そちらのご紹介を。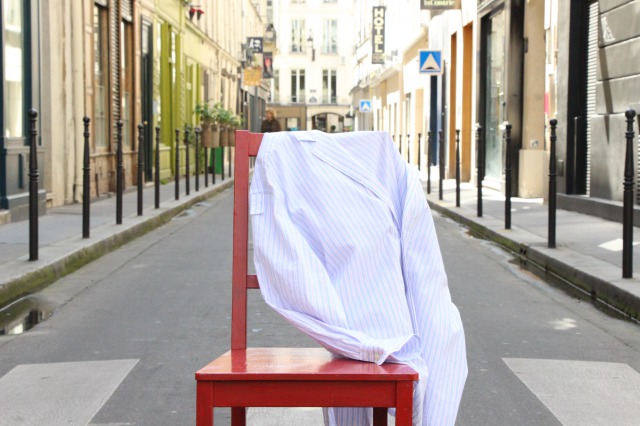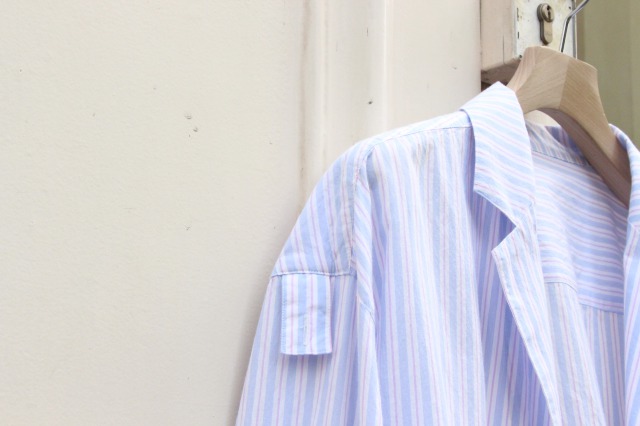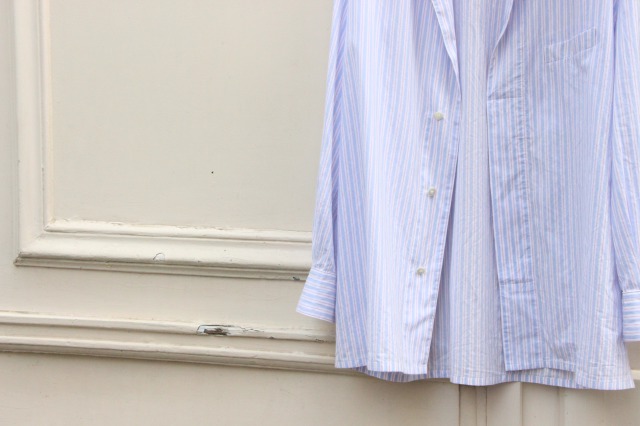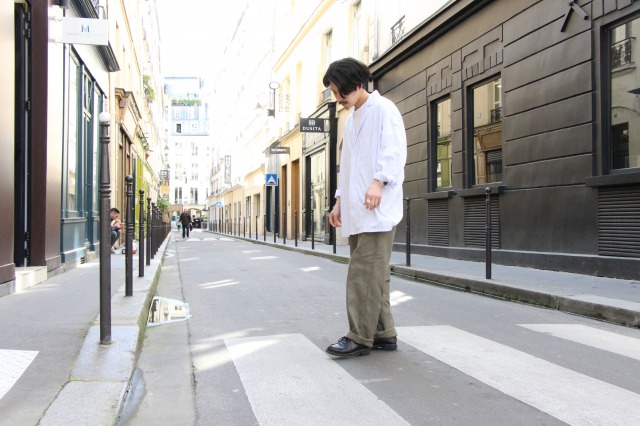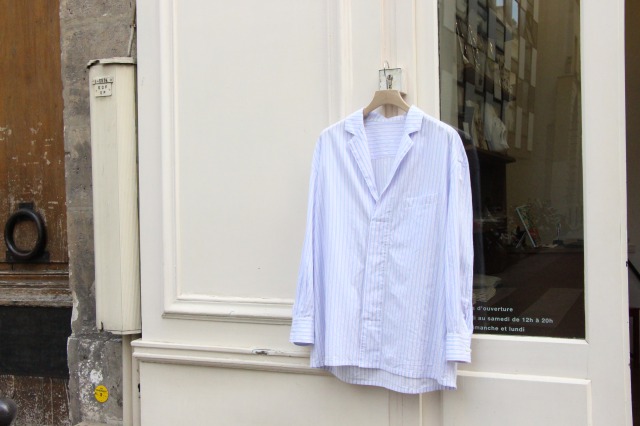 URU "OVERSZED SHIRT JACKET" €260
Material is COTTON 100%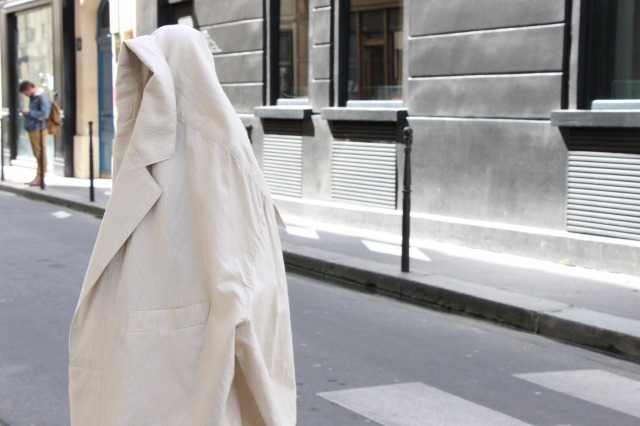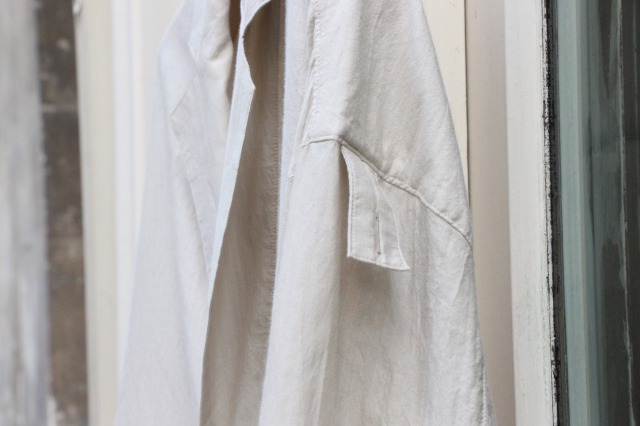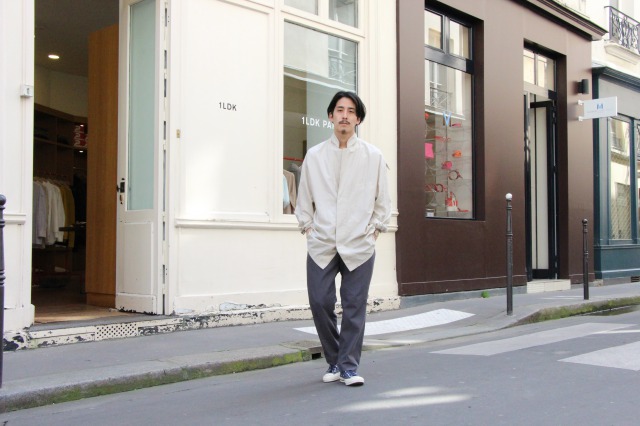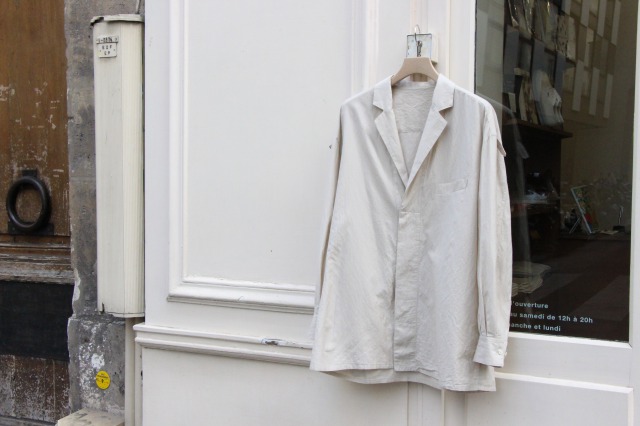 URU "OVERSZED SHIRT JACKET" €275
Material is COTTON 60% and SILK 40%
This striped shirt jacket is smooth and light.
If you look at the pictures, there are many people who seemed to be only stripes of SAX, but in fact BEIGE also looks a lot, it is a thin striped pattern and asserts us.
Because it is one size deployment, it is the physique of the person wearing it, it looks completely different.
A shirt jacket with a detailed military jacket detail.
There is a buttonhole in the epaulette of the shoulder, it is possible to roll up the sleeve and fasten with the button of the cuff.
In the this season, even if you wear a shirt jacket on a T-shirt, or stand up the collar, you can wear it like a shirt or tuck in.
The point I like very much is the color of the stripes.
Stripes of beautiful color of WHITE, SAX, PURPLE and elegant shiny feeling and stripes of beigen of a good condition of cotton silk.
Both of spring color and taste that seems to be spring and summer, but because it is a color tone that is easy to match, it always comes in handy.
サラリとした肌触りの良いストライプ地を使用したシャツジャケット。
写真だと、SAXのお色だけストライプだと思われた方が多いでしょうが、実はBEIGEもよく見ると、薄いストライプ柄になっていて、さりげなく主張してくれます。
フリーサイズ展開なので、その人の体格で、全く違う見え方に。
やや小ぶりな襟やラペル、肩のエポレット、比翼仕立てのフロントボタンなどミリタリージャケットに見られるディテールが特徴です。
肩のエポレットにボタンホールがあり、袖をロールアップして袖口のボタンで留めることが可能でアレンジを楽しめるのも嬉しいポイントかと。
これからの時期、Tシャツにシャツジャケットを羽織っても◎、もしくは襟を立てて、シャツのように着たり、タックインしても◎。
ただでかいサイズ感ではなく、URUらしい計算されたオーバーシルエットのバランスは、独特の空気感や見え方を演出してくれます。
あとは、個人的にとても気に入っている点は、ストライプの色味。
WHITE,SAX,PURPLE の 綺麗な色味のストライプとコットンシルクのちょうどいい具合の上品な光沢感と同系色のストライプ。
どちらも春夏らしい爽やかな色味ながらも合わせやすい色のトーンなので、必ず重宝してくれます。
是非ご覧ください。
instagram
1LDK/1LDK terrace/1LDK PARIS/UNIVERSAL PRODUCTS/MY_/I official
18 SPRING & SUMMER LOOK
UNIVERSAL PRODUCTS/LIVING CONCEPT/I /MY
Thank you for your visit, until the next time.
1LDK PARIS
16 Rue de la Sourdière, 75001 Paris,
+33 1 42 36 44 82
皆様のご来店を心よりお待ちしております。
1LDK PARIS
NAGATA